In recent decades, the labor market has been oversaturated, offering organizations with a massive influx of qualified personnel, which not necessarily relates to the interests of enterprises and companies that today use web recruitment as a crucial tool to avoid wasting opportunities in unsuitable persons.
Is the market saturated with professionals?
Yes it is. Many of our customers have come to ZARZA Engineers to develop solutions that allow them to analyze in a few seconds, as their parameters, the suitability of personnel to be hired. However, this is a trend that has become popular not only in the U.S, but it also echoes in the rest of America and Europe.
The main reason is that, nowadays, being a professional who's qualified to perform a task is not enough, and companies have wider recruitment choices, so they endow their human resources departments with advices and trainings led to use Internet as an additional tool to identify, qualify or disqualify the application of a potential new hire.
Personnel recruitment taking social
networks into account
Social networks have been a crucial tool in recruitment and will remain to be, in order to avoid the hypocrisy of those who are a type of person in their job, so the organization invests on them, but in their spare time they live as true antisocials, who could eventually jeopardize the reputation of an institution in general.
Social networks are in principle the first tool to be verified during personnel recruitment, reviewing their interests, behaviors, pictures and friends, to check whether or not they show suitability with the institution's values.
In social networks (Facebook, Twitter, LinkedIn, etc.), the states posted by prospective candidates will give us further crucial information about their way of seeing the world, reacting against pressure and even how they behaved in previous jobs.
This might be a little rough, however, studies have shown that it's preferable to invest in proper recruitment, than spending months or years of training on an element who will not bring to the the position what we want for its continuity.
At the same time, Social Networks expose interests that candidates usually hide in their interviews that could be morally or organizationally incompatible with the requirements of their future working environment.
Web Recruitment, background research
In addition to criminal records, by Googling as professionals, recruiters may manually, or automatically if advised by a ZARZA Engineer, identify civil and commercial processes where the name and/or identification number of the candidate is present, providing crucial information to the employer about the behavior of the potential new hire.
A person's background, when looking it up on the Internet, can lead us to important information either negative, or positive, demonstrating his leadership and p
articipation in activities that benefit our organization's growth and are determinant during the
Personnel Recruitment process.
It's usual to discover skills that the person looking to be hired has omitted in his curriculum, but can tip the scales when judging his background.
Depending on the country, on Internet we may also gather information of their likes and history, from traffic tickets to a full real estate investigation, personal property and how he's been mentioned by others on reviews.
Technology by hand of Personnel Recruitment
The new age of information and competitiveness requires institutions to invest their resources with special emphasis, in order to maintain lower prices, better yields and also maintain or get leadership over other employers in their same guild.
Today, more and more, organizations are those looking at social networks, Internet and via electronic methods, candidates for their available positions, taking into account from geographical proximity, to how they have expressed about the company they represent, winning or losing, by their own behavior, an opportunity to be added to their organization's ranks.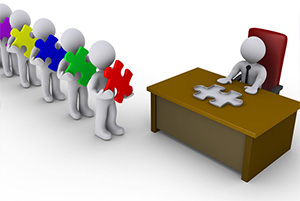 Consolidating an entity's reputation takes decades, but it can be lost in seconds by hiring a non suitable employee, a disloyal element, negative for his peers and/or partners' environment, someone who evade and lie during the personnel recruitment process.
What does personnel recruitment technology offer?
From manual options as searching on social networks, googling and checking identification document consulting sites, to custom software developed by our engineers, which may be today the tool that will let you save hundreds of thousand dollars in personnel who are only looking to learn from you and go to another company.
The headhunters use now the net of networks for personnel recruitment. Protecting yourself as well as protecting your team, is essential.
Anyways, we invite you to consult with your trusted ZARZA Engineer or contact us directly to develop a personnel recruitment strategy for your represented, and so save you many bad times with, although qualified professionals on the paper, not the right ones to wear your brand with pride and respect.